RIISUTTU RUNKO

Stripped Frame

September 8th - 15th 2022, 3pm-7pm


Hakaniemenranta 10
Merihaka parkinghouse P1
groundfloor level
The location was not a formal exhibition space so be careful.
--------
ENG
Stripped Frame examined the anatomy of disappearing 1960s and 70s buildings, their frames, and the process of demolition by using scale models and photographs. Now especially the everyday modern buildings including schools, office buildings, factories, health care centers, and shopping malls are being demolished at an accelerating pace. We devoted time and attention to the discussions, events, materials, and architecture often hidden behind demolition fencing. Also, the exhibition location, Merihaka P1 parking house, is under threat of being demolished.
Stripped Frame was a study and exhibition project by the Listening Practice, Karita Rytivaara and Kaisa Karvinen.
Karita Rytivaara is an architect, independent researcher and part-time teacher in the History of Architecture department at Aalto University.
Kaisa Karvinen works as a spatial designer and researcher. She graduated with a master degree in Architecture from Aalto University, and a master's in Research in Art and Design from Sint Lucas Antwerpen.
The project was funded by Kone Foundation (2021-2022).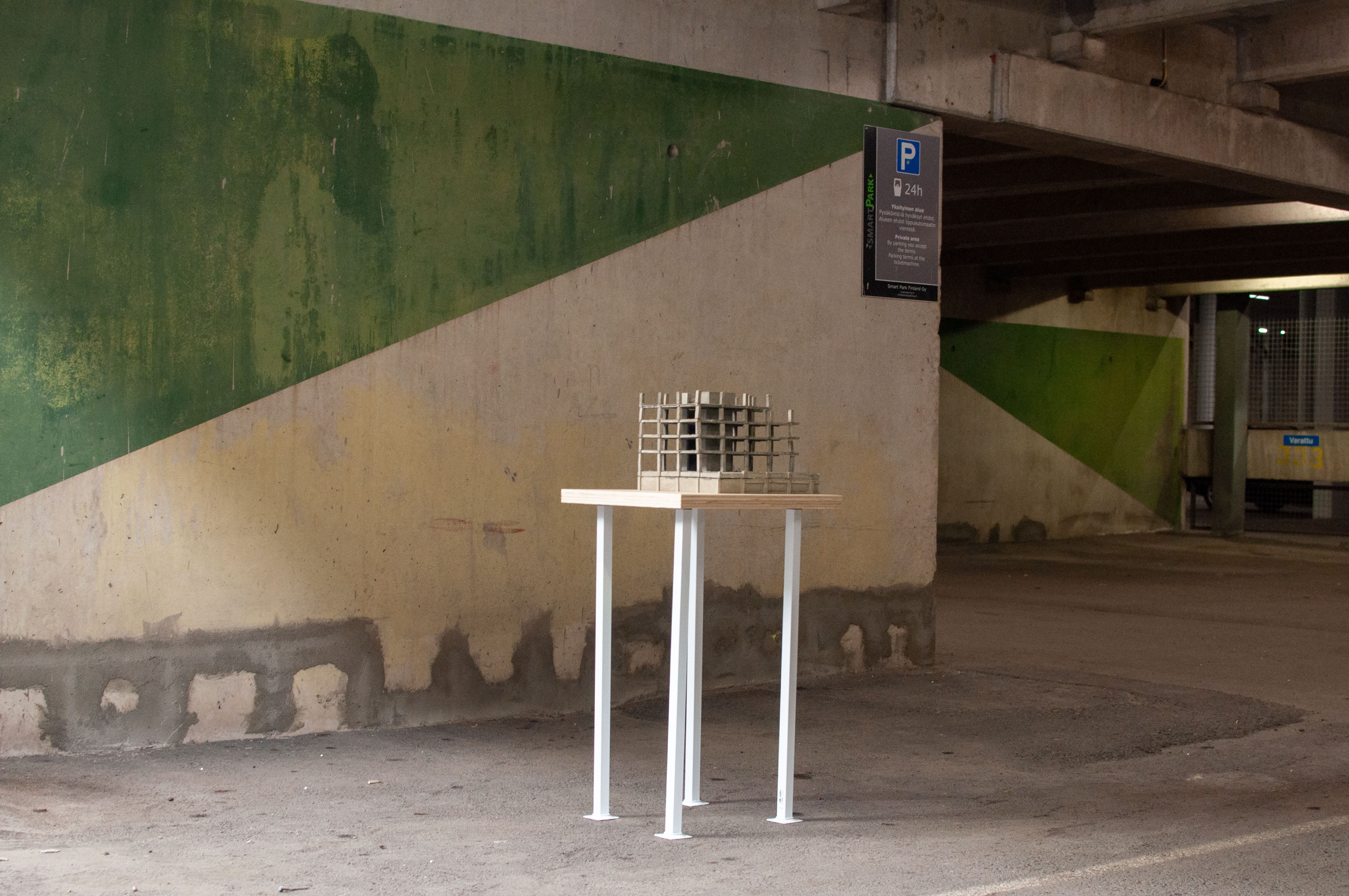 Hakaniemenranta 10
Merihaan parkkitalo P1
pohjakerros
Kyseessä ei ole näyttelytila, vaan parkkihalli, joten olethan varovainen liikkuessa alueella.
--------
FI
Riisuttu Runko tutkii 1960- ja 70-luvuilla rakennettujen katoavien rakennusten anatomiaa, niiden runkoa ja purkamisprosessia betonisten pienoismallien ja valokuvien kautta. Parhaillaan puretaan etenkin arjen moderneja rakennuksia, kuten kouluja, toimistorakennuksia, tehtaita, terveyskeskuksia ja ostoskeskuksia. Olemme omistaneet aikaa ja huomiota keskusteluille, tapahtumille, materiaaleille ja arkkitehtuurille, jotka ovat usein piilossa purkuaitojen takana. Myös Merihaan P1-parkkitalo, jossa näyttely järjestetään, on purku-uhan alla.
Näyttelyn ja tutkimusaineiston on koonnut Kuunteluharjoituksia-työryhmä, johon kuuluvat Karita Rytivaara ja Kaisa Karvinen.
Karita Rytivaara on arkkitehti, itsenäinen tutkija ja osa-aikainen opettaja Aalto-yliopiston arkkitehtuurin historian laitoksella.
Kaisa Karvinen työskentelee tilasuunnittelijana ja -tutkijana. Hän valmistui arkkitehdiksi Aalto-yliopistosta sekä taiteen ja muotoilun tutkimuksen maisteriksi Sint Lucas Antwerpenistä.
Hanketta rahoittaa Koneen Säätiö (2021-2022).